Current Miss Indian UNM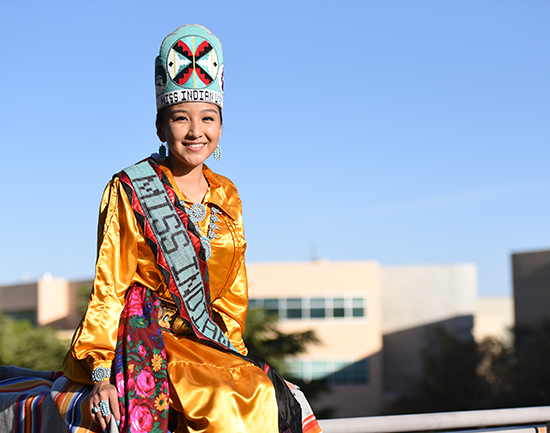 Yá'át'ééh, shí eí Sarah Dennison yinishyé. Tł'ógí nishtįį, To'dílc'ózhi baśhishchiin. Bit'ahnii eí dashicheii, Táchii'nii eí dashinálí. Akót'eego jiká nishłii. Tohatchi déé éí naashá, tsee bi isadá ei shi nahai.
Hello everyone, my name is Sarah Dennison - Zia Weaver born for Salt Water Clan - from Tohatchi, New Mexico. As a first-year student pre-Nursing who's also minoring in Native American Studies; I look forward to promoting health & wellness in tribal communities. 
My vision is for our younger generations to have success in revitalizing Native culture. I hope to empower youth to make positive changes to society and embrace who they are by proudly wearing our traditional clothing & speaking our sacred languages. I believe Indigenous people are powerful and connected to all living beings. It is a privilege to serve as Miss Indian UNM 2018-19.
Ahee'hee' (Thank You).